Zaatar Roast Chicken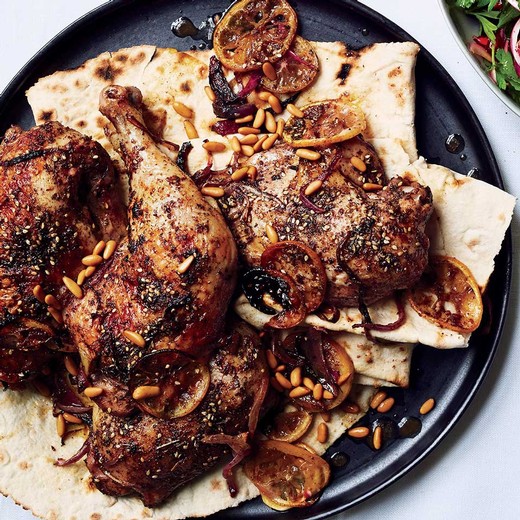 Recipe Date:
April 12, 2021
Measurements:
Imperial (US)
Ingredients
1 Whole Chicken - medium size
2 Lemons
2 Shallots
5 Cloves Garlic
3 Sprigs of Fresh Thyme
1 tbsp EVO
2 tbsps Zaatar Spice Blend
Directions
If you haven't delved into the joys of Mediterranean cuisine, it might be time to give it a whirl. Our chilled red and semi-carbonic She'll Be Right is the perfect accompaniment to the herbs, vegetables and lean meats found in this cuisine. Fresh and crunchy, She'll be Right is a blend of 40% Counoise, 30% Sangiovese,25% Zinfandel, 5% Cinsault that is light and crisp, with notes of juicy pomegranate. Pop a bottle with this his Zaatar rubbed roast chicken and soak in that Mediterranean life.
Preheat oven to 425 F. While the oven is preheating take the chicken out of the fridge and bring to room temperature. This will help the chicken cook more evenly.
Cut lemons, shallots and garlic in half and stuff inside the chicken along with the thyme. Rub chicken with olive oil and Zaatar. Place in roasting pan breast side up. Roast for 15 minutes and reduce to 350. Continue cooking for an additional hour and 20 minutes or until the juices run clear.
Let sit for 10 minutes before carving. Take your pick of Mediterranean sides; couscous, tabouleh, pita, cucumber salad, humus or all the above! Pour yourself a tall glass of She'll be right, take a sit and linger at the table. I promise you will feel refreshed indeed.
SIGN UP TO KEEP UP
Keep up to date on the latest wine releases, events, and promotions.