WINEMAKING
Our winemaking philosophy is fundamentally simple, and has been informed by thirty years of experience in France, Australia, and California. I have always believed that wines are made in the vineyard, and that winemakers are simply stewards of the land. Truly remarkable wines are not "made", rather, they are grown. It's all about soil and climate, or as the French would say, 'terroir'. The cool, coastal climate, uplifted, hilly topography, and ancient sea-bed soils converge to create the ideal terroir for our Estate Grown grapes. We farm our vineyards sustainably to ensure that we can harvest modest yields of impossibly high-quality fruit.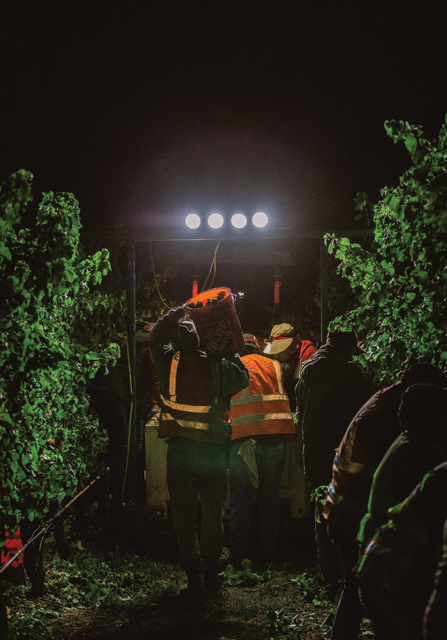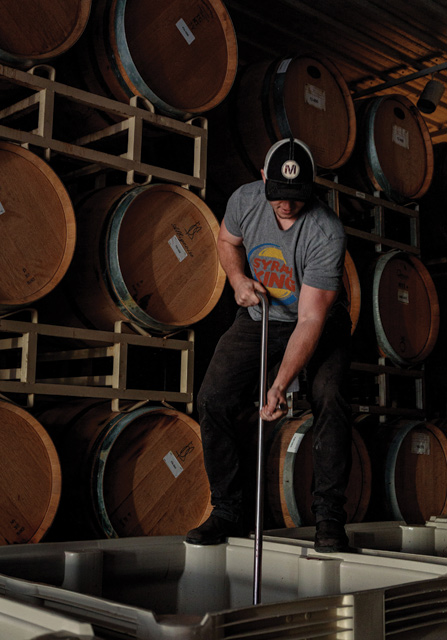 I remain convinced that this narrow area, and our Estate in particular, is in the perfect confluence of weather, soil, and topography to craft world class wines, without equal. We have a state-of-the-art winemaking facility and an experienced winemaking team that allows us to craft highly prized, celebrated, limited, and age worthy wines each vintage. We welcome visitors to experience our wines in our stunning Los Olivos Tasting Room or out at the winery with views of local mountains and vineyards and opportunities to tour our winemaking facility to learn more about how our wines are grown and crafted.
SUSTAINABILITY
From the beginning in 1990, Andrew Murray Vineyards has been committed to sustainable farming and green business practices. 'Green' is not a fad for us; it's a way of life. As a small, family-operated winery, our children have been with us amongst the vines since their birth. The last thing Kristen and I want is for our children to cavort in a chemical fog, or to work the land so hard that we eliminate the opportunity for them to have a future in this business.
Our vineyard manager, Coastal Vineyard Care, is committed to the principles of sustainable, organic, and biodynamic vineyard farming. Their low input viticulture methods ensure that the growing of our premium grapes has minimal impact on the environment and their workers. Practices include attention to soil structure and cover crops to reduce soil erosion, use of biodegradable oils, soaps, and plant extracts for controlling pests and mildew, and introducing microorganisms into the soil to encourage nutrient cycling.
Inside the winery, packaging and promotional materials are selected with careful consideration to environmental impact. Our boxes may not be the sexiest ones on the shelf, but they're made of kraft, natural, recycled cardboard (no virgin pulp) with one color soy ink and no bleach for the printing process. Our letterhead is made from recycled paper, and we use only chemical-free cleaning products. We were early adopters of the Internet, and long ago went paper-free in terms of newsletters and communications with our customers.
There are a variety of bottle thicknesses and shapes available in the wine industry. Variation in these areas translates to variation in weight and raw materials. Though we understand the romantic nostalgia of a big, heavy wine bottle, its additional weight burns more fossil fuels in transportation, and its volume requires more raw materials and fossil fuel in its manufacture. Instead, we use a lighter bottle, thereby reducing use of these valuable resources.
We may not be flying a green flag, and we may not be the grooviest folks in the industry, but our concern for the environment has been marked by a steady dedication to sustainable farming and business practices – this is who we are, not something we've recently become!
SIGN UP TO KEEP UP
Keep up to date on the latest wine releases, events, and promotions.