Soba Noodle Salad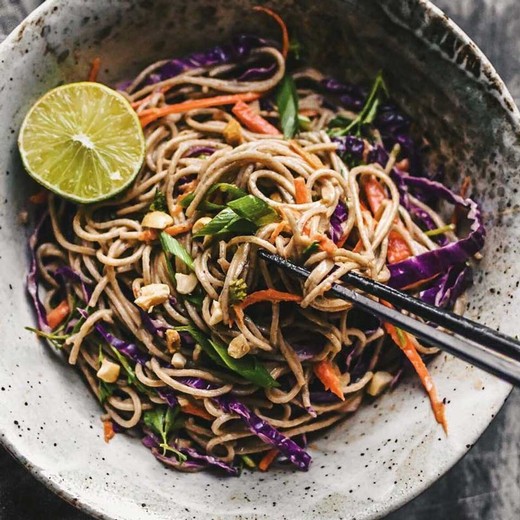 Recipe Date:
April 12, 2021
Measurements:
Imperial (US)
Ingredients
Soba Noodles (1 pack of these buckhweat noodles)
1 tbsp Minced Ginger
1 tbsp Minced Garlic
2 tbsps Sambal Olek
2 tbsps Soy Sauce
2 tbsps Lime Juice
2 tbsps Sesame Oil
1 tbsp White Sesame Seeds
2 tsps Honey
2 Chopped Scallions
Directions
Wildflowers are blooming, the hills are green, and the valley is glowing in these lingering Spring days. There is nothing quite as satisfying as coming home from work to a healthy fresh meal and a crisp glass of white wine. One of my all-time favorite pairings is a floral white wine with spicy Asian food. Our newest vintage of Fruit Salad is a blend of 35% Malvasia Bianca, 35% Riesling, 25% Chenin Blanc and 5% Gewurztraminer. Soft orange blossom, honey and lemon tickle the palate and beg to be paired with a spicy and fresh meal. This cold soba noodle salad is a match made in heaven with the bright tangy spicy dressing and a plethora of fun toppings to pick and choose from. Simple, healthy, and delicious; perfect for every day of the week.
Cook noodles according to package. Drain and toss with one tablespoon sesame oil. Let chill in fridge until noodles are cold throughout. While noodles chill, make dressing.
Whisk together all remaining ingredients and toss with chilled noodles. Divide into bowls and garnish with toppings of your choice! Some of my favorites include radishes, soft boiled egg, chicken, salmon, scallions and sesame seeds. Pair with our delicious Fruit Salad and you are in for a tangy treat!
SIGN UP TO KEEP UP
Keep up to date on the latest wine releases, events, and promotions.