Mushroom Risotto with Gruyere & Creme Fraiche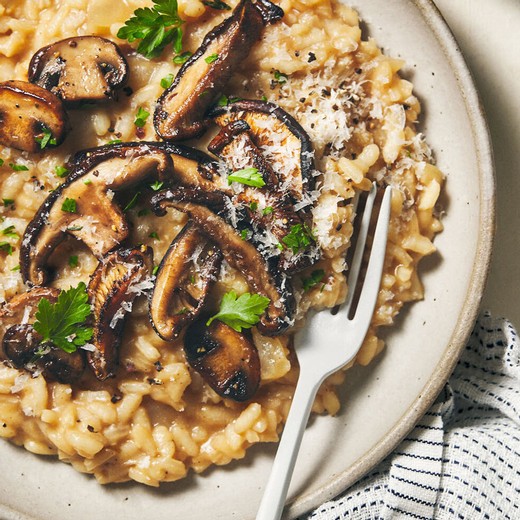 Recipe Date:
February 1, 2021
Measurements:
Imperial (US)
Ingredients
1 1/2 cups dried porcini
3 cups hot water
3 1/2 cups chicken broth - low sodium
2 tbsps EVOO olive oil
2 shallots - diced
3 cloves garlic - minced
2 cups arborio rice
2 tbsps salted butter
1 cup Gruyere cheese - grated
1/4 cup creme fraiche
grated parmesan, for serving
1/4 cup wine - like E11even Pinot Noir
Directions
Soak dried mushrooms in hot water for 20 minutes. Stain through cheesecloth or mesh strainer, reserving the mushroom liquid. Separate ½ c mushrooms for plating and set aside.
In small sauce pan, combine reserved mushroom liquid and chicken stock. Bring to a simmer and reduce heat to low.
In dutch oven heat olive oil. Add shallots and cook 3-4 minutes until soft. Add garlic and stir for 30 seconds. Add mushrooms and rice. Cook until rice is slightly toasted, about 1 -2 minutes. Add wine, bring to a gentle boil and cook until almost evaporated (usually 30 seconds to 1 minute).
Add ½ a cup of stock liquid to rice mixture. Once liquid is absorbed, add another 1/2 cup of liquid. Keep adding stock in 1/2 cup increments while stirring constantly over the next 25-30 minutes.
Once rice is cooked to your liking add the butter until it is incorporated. Next stir in the creme fraiche. Remove from heat and stir in the cheese. Season with salt and pepper (and more parmesan cheese if you are a glutton like us ;) to taste.
Serve immediately garnished with reserved mushrooms and grated parmesan cheese. Bon Appétit!
*Best enjoyed with the E11even Wines Pinot Noir, Sta. Rita Hills.
SIGN UP TO KEEP UP
Keep up to date on the latest wine releases, events, and promotions.