Corned Beef Ruben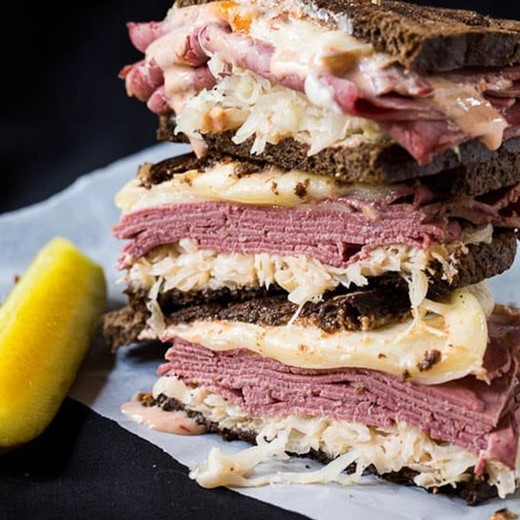 Recipe Date:
March 2, 2021
Measurements:
Imperial (US)
If you are anything like me, and you have an affinity for stocking up on your favorite wines, chances are your wine fridge is full and you are looking to make some space for your Spring wine club shipments. Trust me, I know how hard it is to be motivated to pair wine with a fridge full of mediocre leftovers. Fear not! The most unlikely of pairings are sometimes the best discovered secrets. With Spring around the corner and the likelihood of St. Patty's Day leftovers, I've created a simple food and wine pairing that will help make room in both fridges! Sandwich and Sauv? I think so!
Ingredients
2 Garlic Cloves
1/4 cup Red Onion
3 Kosher Dill Pickles
1 tsp Salt
1/2 tsp Black Pepper
1/2 tsp Paprika
1 cup Mayonnaise
3 tbsps Ketchup
1/2 Juice of Lemon
16 Slices Corned Beef
8 Slices Provolone
12 tbsps Sauerkraut
12 Slices Dill Pickle
Directions

In food processer, pulse garlic onion and 3 pickles until finely chopped. Add mayo, ketchup, salt, pepper, paprika and lemon juice. Blend to combine. Set aside.
Slather sauce on every slice of Pumpernickel bread. Layer one slice of cheese, 4 slices of corned beef, 3 tablespoons of sauerkraut, 3 pickle slices and one more slice of cheese inbetween two slices of pumpernickle bread. Butter outside of slices and grill in skillet until cheese is melted and both sides of bread are perfectly crispy and golden.
Slice sandwich in half and enjoy with a refreshing glass of Sauvignon Blanc.
SIGN UP TO KEEP UP
Keep up to date on the latest wine releases, events, and promotions.